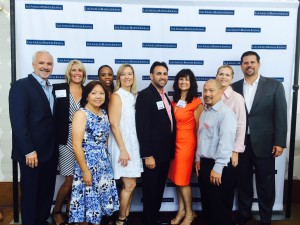 For the second year in a row, Pango Group received recognition for being one of the best companies to work for in Los Angeles. This list was launched nine years ago by The Los Angeles Business Journal to honor companies that are not only successful in business, but who also provide a nurturing environment to their employees.
"We were beyond honored to make this list in 2014, and are even more proud to be receiving it for a second year in a row. Making sure our employees, customers and business partners know how important they are to us has been, and will always be, one of our top goals as an organization, explained Jeff Russell, Pango Group President.
One of Pango Group's top priorities is to continue to make our offices a wonderful place to work. Our mission is to run exceptional real estate service businesses that enhance the lives of the people, partners, and communities we serve. It's all about the people that make it happen. We have an innate desire to create an environment that not only makes work enjoyable, but we feel that if we treat each other with respect and strive every day to enhance each other's lives, it will roll over into our clients and communities. The smartest investment is in your employees.
This year, The Los Angeles Business Journal partnered with Best Companies Group to assist with managing the process and assembly of the "One of the Best Places to work in Los Angeles' list.
Qualifying companies from across the county were entered to determine what businesses would make the list. The first portion of the research, which accounted for 25 percent of the scoring, included evaluating company policies, ideologies, philosophies and systems. The second portion, which accounted for 75 percent of overall scoring, consisted of employees completing a survey to review their employee experience.
"I feel extremely fortunate that I've been apply to infuse my passion and vision into our company and the industry I love," says Pango Group CEO, Scott Akerley. "This recognition is directly tied to the magnificent people I admire, respect and care about."
"BBQs, staff recognition parties and contributions to local philanthropy efforts are just part of our company culture. It's part of what makes us who we are, so we look forward to carrying on these traditions for years to come," said Joe Curtis, Pango Group COO.